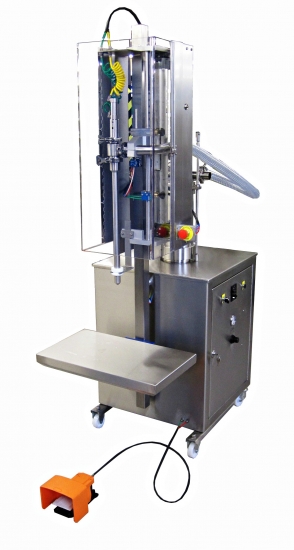 Bottom Fill Depositors
Enquiry
Description
The Model 2000 volumetric depositors are designed for accurate and clean depositing of foaming and non-foaming pure liquids. The dispensing unit is vertically mounted and double acting, with the product flow into and out of the volumetric cylinder controlled by a 4 port rotary valve. The dispensing unit is quickly adjustable for volume changes via a 6 turret assembly which allows the operator to pre-set 6 different fill volumes (200ml - 25 litres overall deposit range).

Features Include
Semi-automatic with foot pedal control
Bottom fill applications
200ml - 25 litres overall deposit range
Direct feed from a product holding tank outlet
Height adjustable table
Mobile frame
316 stainless steel in all product contact areas
Simple to operate
Robust, hygienic & easy to clean
Requires compressed air supply

Suitable Products
Hand sanitiser, mineral oils, hydraulic fluid, screen wash, solvents, resin, sealants, agrochemicals, detergents, polishes, shampoo, lotions, edible oils, syrups, soft drink concentrates, sauces.