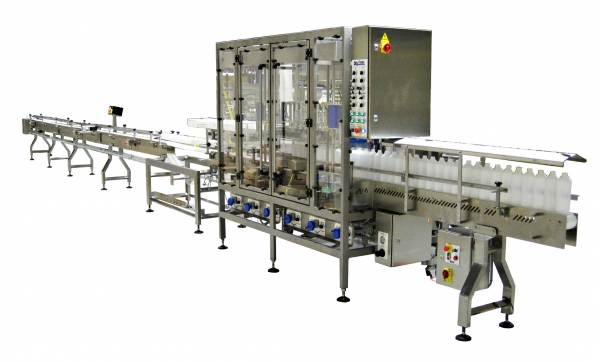 Description
Our bottle filling lines are bespoke designed and built to meet the specific production needs of each client. They accurately fill most types or size of glass / plastic bottles (including squeezy type), and provide damage free depositing of hot or cold liquid, semi-liquid and suspended solid food products. Please contact us to discuss your specific requirements.

Suitable For
Start-up companies
Contract packers
Medium to large scale independent food producers
National food groups

Features Include
Suitable for most type / size of container
Conveyor lengths to suit
Scroll feed systems for difficult-to-handle bottles
High or low level / single or multi-head filling machine
PLC or pneumatic control
Hopper feed or direct feed to a cooking kettle / holding tank
316 stainless steel in all product contact areas
Hygienic, robust, operator friendly
Quick product / container changeovers
Comprehensive guarantee, full after sales support
Turnkey projects available

Suitable Food Products
Jam, preserves, honey, condiments, peanut butter, ketchup, sauces, smoothies, juices, dressings and marinades.
Suitable Non-Food Products
Hand Sanitisers, Cleaning Products, Medical Gels, Cosmetics, Adhesive, Automotive Products, Coatings, Industrial Lubricants & Fillers, Latex, Liquid Fish Bait, Pet Food, Suet Bird Feed, Resin, Saline Solution, Paint, Varnish, Screen Wash, Sealant, Toiletries, Wax.