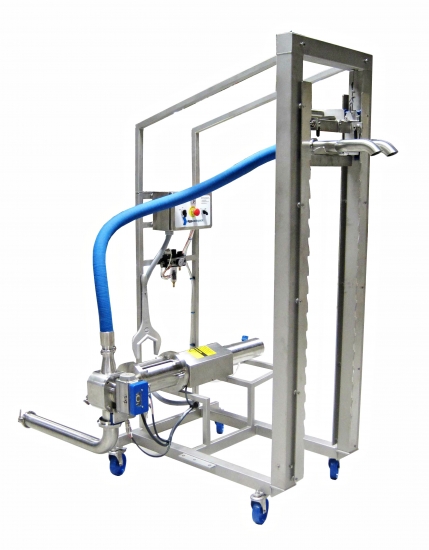 Series 6 Gastronorm Pump
Enquiry
Description
Our Series 6 gastronorm transfer pumps are designed primarily for medium - large scale food producers. These hygienic food pumps keep your production running and remove the need for operators to manually fill gastronorm trolley trays. They pump directly from cooking kettles, tote bins, mixing vessels or IBC, and provide damage free transfer of hot free flowing liquid products.

Capacity
Standard 4.0 - transfer rate up to 26 litres per minute
Maxi 5.125 - transfer rate up to 50 litres per minute

Features Include
Damage free product handling
Bespoke depositing head to suit gastronorm trays
Pump directly from tote bins or cooking kettle outlet
Mobile frame with lockable castors
316 stainless steel / food grade flexible used in all product contact areas
Supplied with the relevant length / width of pipework
Simple to operate, hygienic & easy to clean
Requires compressed air supply
12 months warranty
Full after-sales support

Suitable Food Products
Free flowing sauces, stocks, gravy, soup, dressings and marinades.