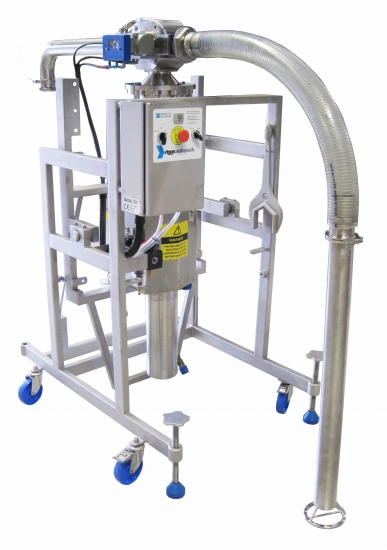 Series 6 Maxi Pump
Enquiry
Description
Our Series 6 maxi transfer pump is designed primarily for medium - large scale food producers and suitable for bulk transfer applications. These hygienic food pumps keep your production running and remove the need for an operator to manually fill hoppers. They pump directly from cooking kettles, tote bins, mixing vessels or IBC, and provide damage free transfer of hot or cold liquid, semi-liquid and suspended solid products.

Capacity
Maxi 6.5 - transfer rate up to 80 litres per minute

Features Include
Damage free product handling
Low / high level transfer
Pump directly from tote bins, cooking kettle outlet, mixing vessels or IBC
Mobile frame with lockable castors and hand jacks for self-levelling
316 stainless steel / food grade flexible used in all product contact areas
Supplied with the relevant length / width of pipework
Simple to operate, hygienic & easy to clean
Requires compressed air supply
12 months warranty
Full after-sales support

Suitable Food Products
Jam, marmalade, chutney, pickles, relish, honey, peanut butter, condiments, sauces, deli fillers, dips, dressings and marinades, smoothies, soup, ready meals, coleslaw, pate, quiche, sandwich and pie fillings, dairy, bakery and seafood products, cake, pudding and dessert ingredients.

Suitable Non-Food Products
Hand Sanitiser, Cleaning Products, Medical Gels, Cosmetics, Adhesive, Automotive Products, Membranes, Surface Treatments, Resin, Industrial Lubricants & Fillers, Latex, Liquid Fish Bait, Pet Food, Suet Bird Feed, Resin, Saline Solution, Paint, Varnish, Screen Wash, Sealant, Toiletries, Wax.